About
The paintings reflect the ever-changing landscape of human emotions. Described by the language of colour and an instinctive approach, the works contain a deep sensuality.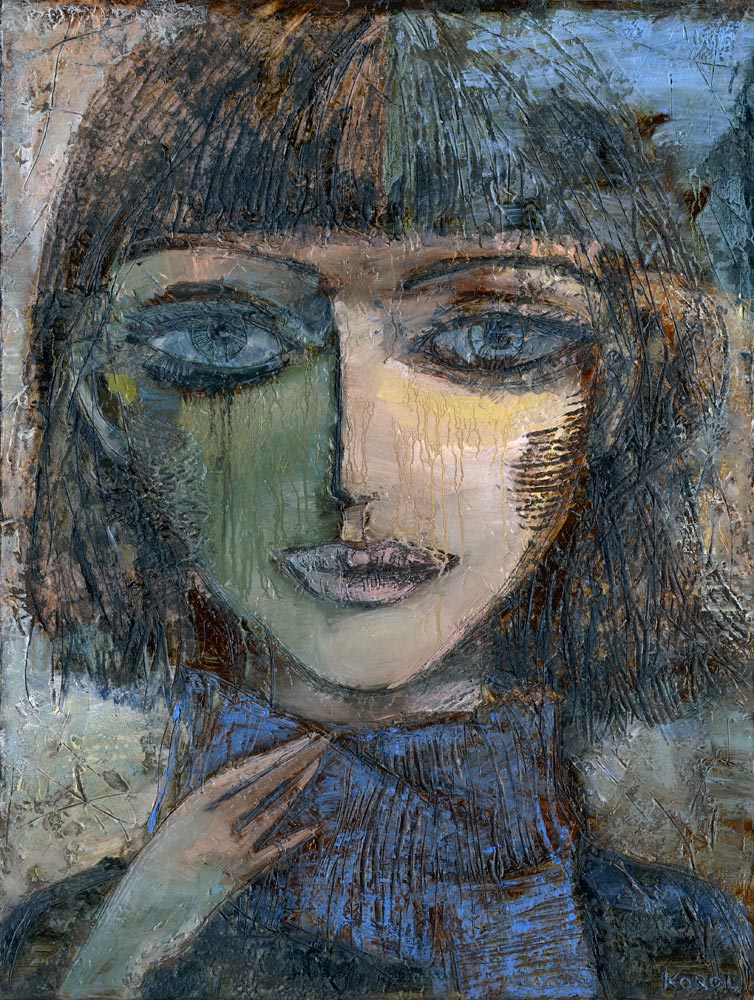 I always like to stretch my own canvases and then prime them and prepare them for the work. I try to build our relationship straight from the beginning. This gives me time to think about my next painting, dreaming of what it is going to look like, what colour I am going to focus on, what story it is going to tell, if any….. It is like you are first trying to imagine the face of your unborn child. Then it becomes all about the character – sometimes it behaves, sometimes it is naughty and doesn't want to listen to me at all and I try to work on it and it takes a long time until the painting becomes exactly what I am looking for.
There are also times when the painting takes on a life of its own and starts to sail in its own waters and there is nothing I can do about it, but let it go.
Every time the process of painting is a mystery, it is a journey. Every time there is a new discovery, a new surface to dig into, and a constant travel. Sometimes colour drives me away from a form or an object, and the paintings become more about emotions and sacred feelings which can be interpreted differently by each viewer.
Video. Watch as I show you my home and studio and discuss my art.
Collections:
AIB Bank, Dublin, Ireland
OPW, Dublin Dept. of An Taoiseach
OPW, The Boathouse, Farmleigh, Phoenix Park, Dublin.
Kelly's Resort Hotel, Rosslare, Ireland
Bewelys Hotel, Leopardstown, Dublin
Beauchamp's Solicitors, Dublin, Ireland.
Buy 4 Now Ltd, Dublin, Ireland.
Dome Telecom, Smithfield, Dublin, Ireland.
I1 Ltd, Taipei, Taiwan.
Wexford Vocational College.
Boyle Arts Festival Civic Collection
The 2nd Millenium Company Co. Ltd
"Korea Kett Co., Ltd." Seoul, Korea
Selected Exhibitions:
1995 Group Exhibition in Gallery K + B, Prague.
1996 Exhibition in Rapid Gallery, Prague.
1997 Group Exhibition, Kilkenny Gallery of Modern Art, Kilkenny.
1999 RHA Annual Exhibition.
2001 Two Person Show, Heritage and Culture Center, Dublin.
2002 RHA Annual Exhibition.
2002 Two Person Show, Mill Cove Gallery, Cork.
2004 Solo Exhibition, "Fragments", James Joyce House, Dublin
2005 Group Exhibition, "Dublin Past and Present", Office of Public Works, Dublin
2005 Solo Exhibition, "Project", Mill Cove Gallery, Cork
2005 Group Exhibition, CASe Exhibition, Lavitt Gallery, Cork
2005 Art of the State, "Across Boundaries", Office of Public Works, Touring Exhibition.
2006 Solo Exhibition, "The Circle", Mill Cove Gallery, Cork
2006 Group Exhibition, Wexford Vocational College, Wexford.
2007 Group Exhibition, "Cead in China" in Shanghai, Hangzhou and Beijing
2007 Group Exhibition, Boyle Arts Festival, Boyle, Co. Roscommon.
2007 Solo Exhibition, "Footprints", Hallward Gallery, Dublin.
2009 Solo Exhibition, "In Between", Berkeley Gallery, Thomastown, Co. Kilkenny.
2010-2015 Group Exhibitions, Green Gallery, TwentyTwenty Art Gallery and Waldock Gallery
2015 Solo Exhibition, "At Heart", Gallery Knot, Seoul, South Korea.
2016 Solo Exhibition, "A Moment in Time", 2020 Gallery, Cork, Ireland.